Cocktail Bar & Rum Bar
in Brussels
Cocktail Bar Hospitality.
The Modern Alchemist is born from the never-ending quality research of 3 passionate bartenders.
We became friends more than 10 years ago, working and learning our craft behind the same bar in Brussels. We then went our separate ways in renowned cocktail bars. After a couple of years, the same mindset regarding the service industry and the urge to create our own place brought us back together. Nevertheless, striving to deliver the best experience possible took us 3 more years to refine and shape the concept.
The result is a craft cocktail bar in Brussels, with quality service, a cozy atmosphere, comfortable seatings, and drinks made with love. Mainly focused on cocktails and rums, we only use the highest quality spirits and organic fresh ingredients on our seasonal menus.
We are always looking for new products and techniques; we are constantly trying to improve our skills and enhance the quality of time you spend with us in our cocktail bar!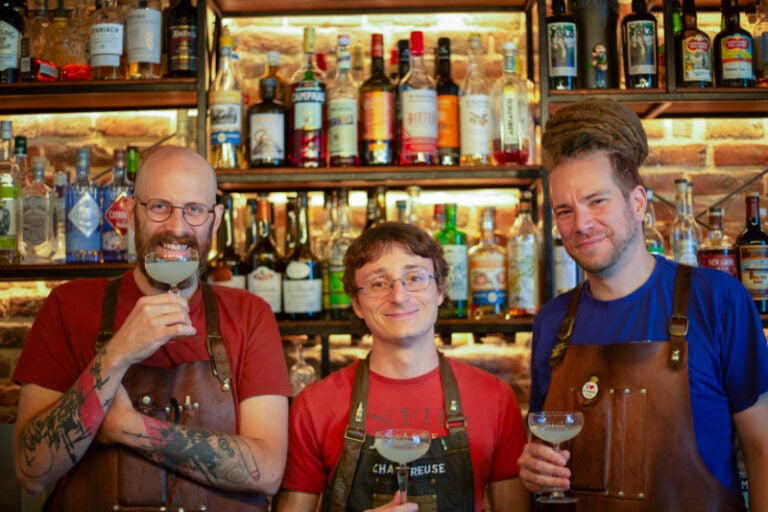 With a discreet industrial look, this chic bar has been making rum, for some time now, one of the most exciting spirits. The supply of rums increased from 70 to 120 references last year, with a preference for small artisanal distilleries. Anyone wishing to acquire knowledge in this field is knocking on the right door. In this context, the bar even applies the break-even bottle's principle for exclusives bottles, which allows you to taste a special rum at a cost price. "Sharing is caring"!
The first time we came, Christopher was the one who welcomed us at the Modern Alchemist. The bar had just opened and he was still finishing to set up, but he gave us a warm welcome nonetheless. Located a few meters away from Place Van Meenen since December 2018, the opening of The Modern Alchemist has already got many people talking. And we're not surprised. With his two business partners, Sébastien and Benjamin, they found right the recipe. Specialized in rums, they offer over 70 references to their customers. But those are not just any rums: all of them have been made according to the traditional method, and contain no additives. (...)
The Modern Alchemist is the place to be for lovers of rum (more than 200 references available) and homemade seasonal cocktails. Christopher Ducat, Benjamin Deniel and Sébastien Bourdain's, happy trio of barmen, earned their stripes in the best cocktail bars in the capital. It's no wonder that The Modern Alchemist has become a real household name.
Situé à Saint-Gilles, ce bar à cocktail de haute mixologie n'a pas souhaité surfer sur la vague du gin. Dès lors, The Modern Alchemist a lancé son propre concept : créer des cocktails à base de rhum. Des dégustations de rhums sont donc à la carte permettant à ceux qui n'y connaissent rien de s'initier aux plaisirs de cette eau-de-vie si particulière pour accommoder son palais. The Modern Alchemist propose par exemple l'Elixir d'Eustache, un mélange de rhums maison, de Chartreuse verte, de cordial cold brew et de jus de citron vert. Á tester au risque d'adorer et d'en reprendre un deuxième.
Perfect drinks for everyone, everywhere, at any time.
Our main activity is tending our cocktail bar in the heart of St-Gilles, Brussels, where we use the finest and, wherever possible, local, fresh and seasonal products. But The Modern Alchemist has also an online shop! On our webshop you will find high-quality and authentic spirits choosen by our team.
As rum lovers, we mainly focus on this incredible spirit and even make our very own co-bottling. Still, we offer a wide range of other liquors such as Whiskies, Mezcals, and many more. Sellings spirits that we love weren't enough, therefore we create a range of ready-to-drink bottled cocktails to enjoy a perfectly crafted drink, like in our bar, but in the coziness of your home.
We provide you pro and consumers Masterclass. We think spirits education is essential, as well as industry-related consulting for hospitality businesses who want to grow.(more info coming soon!)
Homemade ingredients
Seasonal Products
Artisanal Small Bites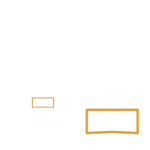 Craft Bottled Cocktails
Large choice of Premium Spirits
Online Liquor Store
Private & Business Event
Consulting / B2B / Masterclass
Seasonal Cocktails Menu
Food & Soft drink
Rum
Whisky
Seasonal Cocktails Menu
Signature Cocktails – Seasonal Menu
Pear and grape highlighted in this sparkling sour cocktail, ideal to forget about the weather! Delixir Pisco, Binner Pear Brandy, Valdespino PX Sherry, Drouin Pear Cider, roasted Sesame, Verjuice. – 17%
14€
A powerfull cocktail with flavors of autumn. The spices of vermouth blend well with the apple and the freshness of the cane. Drouin Calvados Selection, Sagi Red Vermouth, Pineau des Charentes, Longueteau Rhum. – 30%
14€
This cocktail will bring a bright tartness to a sweet base like a sour candy with an all-spice aroma from the Cubeb Pepper. Mount Gay Black Barrel Rum, Triple Sec Grandmont, Grappa Riserva, Cubeb Pepper. – 32%
14€
The infusion of raw pumpkin and rum creates a fine union in this cocktail. It offers a refreshing profile with bitterness and a touch of gourmand flavor. Pumpking infused Plantation 3 stars Rum, Clairin Communal Rum, Triple Sec Grandmont, Dry Vermouth, Pimento Dram Liqueur, Verjuice. – 27%
14€
A comforting tiki cocktail to face the freshness of fall. Plantation Original Dark Rum, Plantation OFTD Rum, Valdespino Sherry, Grandmont Gentiane, Bielle Coco liqueur, Walnut Orgeat, Lime. – 21%
14€
Feeling stressed and thirsty? We got you covered with this long drink as refreshing as it is soothing! Apple Eau de Vie from Constant Berger, Green Chilli Liqueur, Yuzu Triple Sec, Verjuice, CBD Soda. – 15%
14€
Our now-classic Rum Old Fashioned with our infinite house blend of Rum
Blend of Rum, Sugar Cane Syrup, Orange Bitter. – ~35%
14€
This classic sour & refreshing rum cocktail is a staff favorite.
Rum, Lime, Simple Syrup. – 25%
14€
The name says it all, here's a big and strong cocktail!
House Blend of 3 Rums, Falernum, Grapefruit, Pomegranate, Lime. – 26%
16€
A classic long drink, refreshing & gingery
Rum Blend, Lime, Ginger Beer. – 12%
12€
Cantillon Le Plaisir (Bottle 75cl) Out of Stock
35€
Blend of 2 years old Lambic with 9 differents varieties of grape pomace – 6.5%
35€
One payment by card per table, thanks.
Some of our cocktails are available in bottles (50cl) for takeaway. Ask the staff for prices and availabilities!
At The Modern Alchemist, we use mostly organic and local ingredients to make our cocktails. We are working with local market & artisan like Hopla Geiss, La Fruitière, Super Monkey, L'herboristerie de Louise, etc.
Food & Soft drink
Rum
Whisky
The Modern Alchemist
Cocktail Bar in Brussels
We will be closed this 14/10/2023

Tue. – Thu.: 6 pm to 12 am
Fri. – Sat.: 6 pm to 1 am
Any questions?
Contact us! 
We don't take reservations.